Line of Blood

:

Uncovering a Secret Legacy of Mobsters, Money, and Murder by Jana Marcus
A Short Review by Rickey Pittman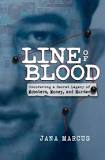 I discovered the writing of Jana Marcus in my review of her earlier book, In the Shadow of the Vampire, which you can read on this blog. That review led me to read and review this work. But first, a word about Jana Marcus. Marcus is the author of two photodocumentary books, "In The Shadow Of The Vampire: Reflections from the World of Anne Rice" and "Transfigurations," which received the Gold Award for Best LGBT Non-Fiction Book of 2012 by the Independent Book Awards of New York. She is a multi-award-winning photographer based in Santa Cruz County. You can discover much more about her and many illustrations of her exceptional photography at her website.
I am happy to have discovered her, a careful writer who has a fantastic inner theatre, an imagination no doubt fueled by her expert photographer's eye. The subtitle of the writing gives the reader a strong hint of what is found in this murder-mystery-memoir–there is much here about mobsters, money, and murder. This is a tale of a Brooklyn family with their histories, their family trees, their secrets, and their faults and strengths. There is a section of family photos that bring places, family members, and graves into focus and helps the visualization of the narrative.  Marcus's years of obsessive and careful research led her on her tedious quest for answers for unsolved murders. She found answers to many of her questions, but her discoveries were often painful, heartbreaking, and disappointing. I encourage you to read this fine book to discover for yourself what she found. She obviously knows how to create a documentary.
As a reader, I most enjoyed learning from this read.  Marcus used a psychic in her search and I learned much about how a psychic works in their communication with the past and with the dead. There certainly seemed to be some very haunted places connected to the murders. Marcus and her friends help her expose the massive corruption that had taken place in the DA's office and the Brooklyn police in the 30s and 40s. The reader meets the Italian and Jewish mob leaders who, along with the corrupt law enforcement agencies, controlled the gangsters, the businesses, as well as the region's prostitution, gambling, and murder for hire. Her narrative made me realize better than any crime movie of that period how corrupt things can become. Marcus says, "What was extremely evident to me was just how rampant corruption ran within the ranks of the police department and the higher authorities in the 1930s and 1940s" (p.111).
Here are some interesting discoveries I made:
Murder Incorporated. – an organized crime group in the 1930s and 40s that enforces the crime groups in the greater New York City area. Marcus covers their history from their formation to their end.
I learned much about Jewish gangsters. They were much more formidable a crime force than I had realized before this reading. Marcus also introduced me to many Jewish/Yiddish words and customs.
Marcus spent half her life in her search for answers. To conclude, I think this is the most memorable quote in the book: "I've learned the dead do talk…if you listen."
You can order Marcus' book HERE: