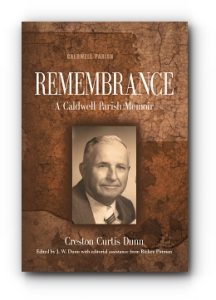 When most people think of Louisiana, they think of Cajuns, alligators, and Mardi-Gras New Orleans. Few think of Northeast Louisiana and the hard, tough, and determined Scots-Irish and French families who settled its piney woods, worked in the sawmills, worked on the rivers, built the roads and railroads, hunted its plentiful game and farmed the soil. Caldwell Parish has a unique beauty and history that this memoir will bring to life.
Remembrance is a memoir of Creston Curtis Dunn and his life in Caldwell Parish. Memories of his service and his contributions to the town of Columbia and Caldwell Parish will never be forgotten. In Remembrance, many surprising facts and fascinating stories await the reader!
Order Rickey's books from the publisher using the links below:
*Signed and/or personalized copies may be ordered from Bard of the South Store.