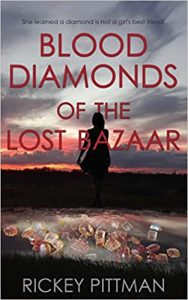 Blood Diamonds of the Lost Bazaar takes readers into two very different worlds—from the Lost Bazaar Art Gallery in small-town North Louisiana into Sierra Leone and its dark, violent and sad world of Blood Diamonds and boy soldiers.
Caitlin, a beautiful and talented artist, ends a stormy relationship with her musician boyfriend Hunter and journeys to Sierra Leone. Von Vermeer, a wealthy, charming diamond merchant pursues her, and though attracted to him at first, Caitlin is horrified to discover that he is actually a corrupt, deranged diamond smuggler whose crazed obsession threatens her safety.
Caitlin returns to Louisiana with Tejan, her adopted son, and rebuilds her relationship with Hunter, hoping to experience the joy of a loving family and redemptive love. But Vermeer follows her to Louisiana, bringing with him the violence she thought she had escaped, threatening her newly found happiness.