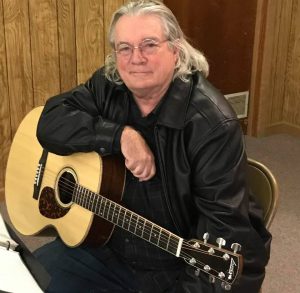 Rickey E. Pittman, the Bard of the South, is a storyteller, author, and folksinger. He was the Grand Prize Winner of the 1998 Ernest Hemingway Short Story Competition. Originally from Dallas Pittman presents his stories, music and historical programs at schools, libraries, organizations, museums, historical reenactments, restaurants, banquets, and Celtic festivals throughout the South. An adjunct college English instructor with an M.A. from Abilene Christian University, he has fifteen published books, five    music CDs and several single releases.
---
Some Festivals, Conferences, Workshops and Other Events Featuring Pittman as Music Performer, Storyteller, or Speaker:
St. Patrick's Day Parade, Hot Springs, AR
French Quarter Festival, New Orleans
Northeast Louisiana Celtic Fest, Monroe LA Mississippi Celtic Fest, Jackson MS
Salado Scottish Festival, Salado TX
Arlington Scottish Festival, Arlington TX
Highland Games, Jackson, LA
North Texas Irish Festival, Dallas
Cowtown Celtic Festival, Fort Worth (2011)
Bedford Texas Celtic Festival
Sam Houston Folklife Festival, Huntsville TX
Houston Scottish Festival
Arkansas Scottish Festival, Batesville AR
Patrick Cleburne Festival, Cleburne TX.
St. Patrick Festival, Dublin TX
St. Patrick Festival, Sidney, AR
Corney Creek Festival, Bernice LA
Tartan Festival, Minden, LA
St. Andrews Banquets & Robert Burns Suppers
Museum & Library Presentations
Florida, Arkansas & Louisiana Reading Associations
Louisiana Library Association
Red Brick Tavern, Conroe TX
Texas Education Service Centers (Media & Storytelling and music), Gladyss Porter Zoo, Brownsville, TX
Brown Bag Concert in the Park, Monroe LA
Opened for Bobby Bridger's Lakota, April 2013
AGEXPO, West Monroe LA
Farmers Markets churches & Veterans Organizations
Presenter at HESTEC Community Day Literacy Event. (2013) South Texas Literacy Coalition
American Indian Arts Celebration, Clewiston FL
Okeechobee Battlefield Historical Event
To book Rickey Pittman, Bard of the South, for school or library presentations, for storytelling or music performances, for fairs and festivals and other events,  contact the author directly or contact Kasey Kelly Allen with Gilded Leaf Productions at kasey@gildedleafproductions.com or 432-664-2594.