It's time for Christmas shopping! Here are two fine Louisiana books–Remembrance, a historical novel, and Remembrance, a memoir–authored by J.W. (Billy) Dunn and edited by Rickey Pittman. Both books are available from Booklocker (see link below) and from Amazon! A perfect gift for any reader who loves Louisiana.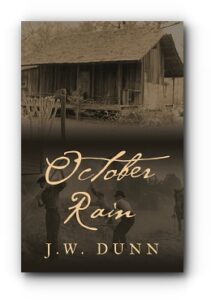 October Rain by J.W. Dunn is a historical novel relating the story of Thurston Knox and his family as they struggle to survive and prosper on his eighty-acre farm in North Louisiana in 1906. Beset by weather, a son's rebellion, sickness, and death of loved ones, Thurston worries about his own impending death—a condition he has hidden from his family and continues pushing himself to plant an additional ten acres of cotton, determined to make his farm provide for his family after he is gone. However, his stubborn resolution precipitates events that threaten to destroy his family. Dunn and his family are long-time residents of Columbia in Caldwell Parish.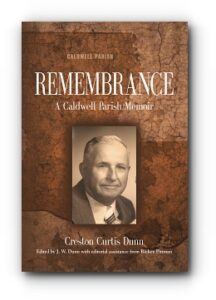 Remembrance is A Caldwell Parish memoir of the life of Creston Curtis Dunn, who lived in three centuries and in the second and third Millennium. Mr. Dunn was one of the most influential and interesting individuals in the history of Caldwell Parish.
Order from Booklocker:   Remembrance HERE: October Rain: HERE.
AMAZON:  Remembrance HERE: October Rain: HERE.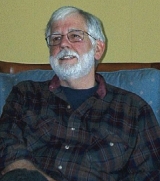 ABOUT THE AUTHOR: J. W. Dunn holds a Bachelor of Arts degree with a double concentration in history and English from the University of the State of New York, Albany, New York, now Excelsior College. He studied with Elaine Ford and Constance Hunting in the University of Maine's graduate creative writing program. Dunn and his family have been long-time residents of Caldwell Parish.