For any interested in Louisiana, here's a book trailer for October Rain, a historical novel by J.W. Dunn. (I was editor). I'll soon be setting up book signings and getting the novel into libraries throughout the state. You can order a print copy from me by sending a mailing address by FB messenger or PayPal. Including postage the fee is $15.00. I'll be having some excerpts in the near future to pique your interest. You may recognize the voice of Jed Marum in the book trailer, from our CD, Osceola and Foster: A Florida Story in Song by Jed Marum and Rickey E. Pittman. Please share this YouTube link!
October Rain by J.W. Dunn is a historical novel relating the story of Thurston Knox and his family as they struggle to survive and prosper on his eighty-acre farm in North Louisiana in 1906. Beset by weather, a son's rebellion, sickness, and death of loved ones, Thurston worries about his own impending death—a condition he has hidden from his family and continues pushing himself to plant an additional ten acres of cotton, determined to make his farm provide for his family after he is gone. However, his stubborn resolution precipitates events that threaten to destroy his family.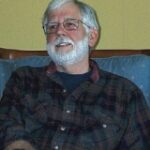 ABOUT THE AUTHOR: J. W. Dunn holds a Bachelor of Arts degree with a double concentration in history and English from the University of the State of New York, Albany, New York, now Excelsior College. He studied with Elaine Ford and Constance Hunting in the University of Maine's graduate creative writing program.
An excerpt from chapter four, October Rain by J.W. Dunn:
 Pulling his hands from his coat pockets, Luke fastened his collar button and tugged his hat brim down closer to his ears.
"Durn him!" His words spouted a fierce vapor into the cold dusk. He breathed into his cupped palms, rubbed them together then thrust his fists into his coat pockets again. The cold gripped his shoulders and neck, and in the dying light, he saw a lone brown thrasher scratching among the dry leaves under the hawthorn and huckleberry bushes that overhung the road ditch.
He figured he'd head for Seth's place on the far side of Hennessey Creek, but the moon wasn't going to rise until late, so he wouldn't be able to see his way through the dark woods for several hours. He had often hunted and trapped in these woods, during daylight and at night, sometimes alone but usually with Seth and their ma's younger brother, Matt Tarroll. Matt was four years older than him and only a year older than Seth, and they had worked and played and fished and hunted together since Luke could remember, and he felt at home in the pine woods that covered the ridge along which the Buskin Road curved and in the three- to six-mile-wide flat woods, which they called a swamp that lay on either side of Hennessey Creek. But every few years, a panther meandered through the countryside. Grandma Knox said the Hennessey swamp was part of the panther's hunting grounds, and folks had heard it scream and seen signs of it, off and on, for years. Luke had heard it scream, too.
ORDERING INFORMATION: October Rainl is available from Amazon or Booklocker.