The Scots & Irish in Louisiana: In Story and Song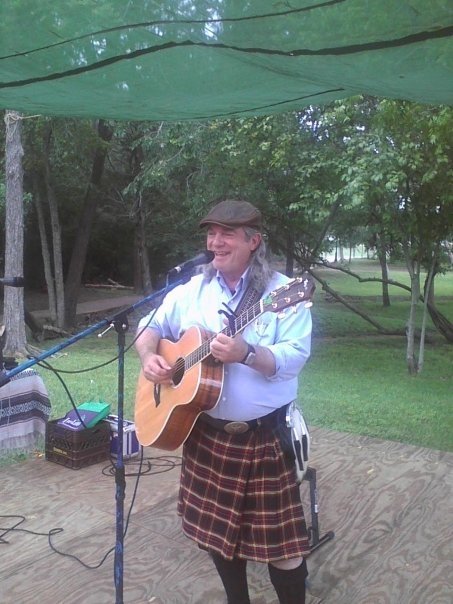 A presentation by Rickey Pittman about the influence, notable individuals, settlements, and achievements of the Scots & Irish in Louisiana. Presented July 9, 2022, in Alexandria, LA.
 THE IRISH
According to 2014 estimates from the U.S. Census Bureau's American Community Survey. Louisiana has more than 351,000 people claiming Irish ancestry, about 7 percent of the state's population.
The Irish (and the Scotts) left their mark on the state's geography. Delhi, Kelley, Tullos, and Jena (formerly Hemp's Creek) are all named for places in Ireland. Native American mound sites in the region have Irish or Scottish names. Galloway, Kilbourne, and Balmoral are just a few examples.
Hibernia Bank, once the largest local bank in Louisiana.  (The Ancient Order of Hibernians is the largest and oldest Irish Catholic organization in America.) Numerous Irish pubs can be found in greater New Orleans area.
WHY/HOW DID THEY COME TO LOUISIANA?
The potato famine 1820-47 (approx). Because of prejudice, many were turned away from northern ports. Charged $1.50 per person to board a ship and were required to bring a bed or casket. Ships came to England with cotton bales as cargo, so on the return voyage, they used them as ballast. Louisiana was Catholic friendly and anti-British. In 1860 census, close to 30% of NO residents were born in Ireland.
A landmark of Irish influence is the statue of Margaret Haughery on the corner of Prytania and Camp streets. Margaret Haughery was a destitute Irish immigrant who became a prominent businesswoman and philanthropist in the city. When she died in 1882, she was widely mourned. In commemoration of her good works, this statue of her comforting an orphan was erected soon after, said to be the first American statue honoring a woman.
The most iconic Irish cultural landmark is Patrick's Church founded in 1833, this Gothic church is now a National Historic Landmark. Once a center of Irish immigrant life, Irish descendants are still in its congregation. With beautiful stained glass, wood plaster details, and vaulted ceilings, St. Patrick's is one of the oldest buildings still standing in the Central Business District. Parishioners wanted to attend services in English, not French, Spanish or Latin. They wanted a place where God spoke English.
Completed in 1857, St. Alphonsus served as a Roman Catholic church for the Irish Catholic community of the Lower Garden District section of the city.
The Irish Canal: Hired to dig with pick and shovel the mosquito-infested ditch that would be the new 60-ft. wide 6.07 mile-long shipping canal to Pontchartrain. There was no dynamite, nothing but wheelbarrows with which they'd haul the sludge out of the ditch on inclined planks. And there was no way for them to drain the relentless seepage but with pumps. Over 8,000 died from disease and exhaustion, buried along the way in shallow graves or in mass graves at St. Patrick Cemetery No. 1. The builders of the city's New Basin Canal expressed a preference for Irish over slave labor for the reason that a dead Irishman could be replaced in minutes at no cost, while a dead slave resulted in the loss of more than one thousand dollars. Irish workers made up half of the crews of riverboats and dock workers.
The Irish Channel – Named for the wave of Irish immigrants who settled there. My son lived there for a while. Here's a good guide: https://www.neworleans.com/blog/post/irish-channel-neighborhood-guide/
The Irish Cultural Museum:  Programs, special speakers, musicians, historical displays.  On Conti Street. Coffee House. https://www.facebook.com/IrishCulturalMuseumOfNewOrleans/
Block Parties, St. Patrick's Day Parade, Mardi Gras: Krewe of Erin, Krewe of St. Patrick
Irish Dancers: Many schools of Irish Dance in greater New Orleans area.
Irish Theatre and comedy: Drama has an interesting history in New Orleans. Camp Street Theatre, St. Philip Theatre, and St. Charles Theatre especially featured Irish plays: The Irish Tutor (7 seasons), Audiences saw plays about Irishmen in every possible profession or situation, such as: The Irish Ambassador, The Irish Valet, The Irish Heiress, and The Irish Widow; and in locations around the world: The Irishman in China, The Irishman in London, The Irishman in Naples. The Irish Ambassador and The Irish Lion. New Orleans theater-goers were a receptive and enthusiastic audience. Songs were regularly encored. Covered well by newspapers.
Famous actors: Barney Williams, John Collins, Tyrone Power, Master Joseph Burke,  Dion Boucicault and John Brougham, Richard B. Sheridan, Robert Emmet . Power had goal of keeping the audience in a roar of laughter with his jokes, brogue, blarney, and botheration whether he performed in plays he wrote or in those featuring songs and dances written expressly for him.
Irish eccentrics, stereotypes, blunders, farces, a comic dramatic work using buffoonery and horseplay,  bulls. An Irish bull is a ludicrous, incongruent or logically absurd statement, generally unrecognized as such by its author. Very similar to our Boudreaux and Thibodeaux. Family groups, The Young Irish Minstrels, (Professor MacEvoy and his 3 colleens) Raymond Family (an hour in Ireland) keep interest in Irish music going.
Catherine Hayes, "The Irish Skylark." was a world-famous Irish soprano of the Victorian era. On February 21 the Irish militia companies, benevolent societies, and temperance organizations marched to the Armory Hall and attended her concert in a body.  Catherine Hayes earned four hundred dollars nightly for her concerts in February 1852.
THE SCOTS: There are 20 cities and parishes with Scottish names in Louisiana. Numerous businesses, schools, mascots (Scotties, a highland breed) streets named Cameron, Stewart
Scottish Free Masonry, lodges proudly proclaim their Scottish heritage.
Tartan Day (Minden) A festival and sometimes celebrated at Presbyterian churches. Tartan Day is a North American celebration of Scottish heritage on 6 April, the date on which the Declaration of Arbroath was signed in 1320.
Highland Cattle Association: Prices ranged from crossbred steers at $800 to a registered yearling Highland bull for $14,000, and a registered six-month-old Highland heifer sold for $12,500. Then for the unregistered an open 4 yr. old cow, sold for $9000. Prices were high also for cow/calf pairs selling for $6200. Coos (excellent lean meat for burgers) They have a Highland cattle auction! One can purchase meat online.
Pipes & Drums groups
Scottish Dances and dancers: https://www.rscds.org/learn/steps-techniques/simple-scottish-dances
Ceilidh Dancing
Scottish Society  (Caledonian Society in Baton Rouge) https://www.csbr.org
(Coterie) https://www.csbr.org/homepage/the-scottish-cultural-society-the-coterie/ a small group of people with shared interests or tastes, especially one that is exclusive of other people
Scottish Marshall Arts – "Broadsword society,
Robert Burns Birthday Jan 25. The main attraction of Burns Night is the Burns Supper. This traditionally involves participants donning tartan, listening to bagpipes, crooning Auld Lang Syne – also sung at New Year's Eve – and reciting the great writer's songs and poems.
St. Andrews Patron saint of Scotland (Nov. 30) St Andrew's Day celebrates the very best of Scottish culture with lots of delicious food and drink, music and ceilidh dancing, with parties going into the wee small hours of the night.
Whiskey Tastings (whisky spelling) How to do a whisky tasting! https://www.whiskyadvocate.com/do-whisky-tasting/
Highland Games and festivals. There are many vendors with Scottish costumes, food, flags, and other items.
SCOTS-IRISH (Ulster-Scots: the rednecks of the Celtic World)
How they started: After the North of Ireland was de-peopled, Scots were imported in great numbers to resettle the land. They were largely protestant. (Thus Civil war between north and south) The peak periods of Scots-Irish immigration to America occurred between 1718-74     https://discoverulsterscots.com/emigration-influence/america/ulster-scots-america/scotch-irish-and-new-orleans
Known as a 'God-fearing, Sabbath-keeping, covenant-adhering, liberty-loving and tyrant-hating race.' This love of freedom is a regular theme in centuries of Scotch-Irish literature. Jackson Square is named for Andrew Jackson, whose parents were Scotch-Irish emigrants to America in the 1760s.
A good link on the Ulster Scotts. https://discoverulsterscots.com/emigration-influence/america/ulster-scots-america/scotch-irish-and-new-orleans. (Thomas Mellon)
Oliver Pollock, Ulster Scot, invented the dollar sign, one of the wealthiest merchants in America. Spent almost a billion supporting the Revolution.
Central and North Louisiana were settled by the Scots-Irish immigrants from Georgia, Alabama, South Carolina, Mississippi, and Tennessee. The majority of these immigrants were Baptist or Methodist. They were usually small farmers with a strong Protestant work ethic, and few of them owned enslaved Africans.