Romance on the Tamiami Trail: A short story by Rickey Pittman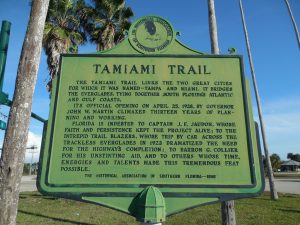 I had seen dynamite used in the movies and read about it in books, but the first time I actually saw dynamite in use was in Naples, Florida. I pulled my car over to watch the road construction men on Highway 30 as they followed a traveling dynamite drilling machine.  They would drop the lit stick of dynamite into a hole, drag the blasting map over the hole. The explosion wasn't very loud, but it was effective in breaking up the limestone rock so the limestone can be used for a base for the road. I found this fascinating. I knew that over two million sticks of dynamite had been used building the Tamiami Trail. Three million had been used in Collier County to create the canals next to the highways. Much of the finances required for this infrastructure came about as a result of the ambition, determination, and resources of Barron Collier, a man blessed with a plethora of resources.
            I've always enjoyed South Florida—I would live there again if I could. I had only returned to see if I could convince my ex-girlfriend Tessa, to give our relationship another go. I loved this girl fiercely, with her porcelain skin and long black hair that in the sunlight shone like a halo. I had left South Florida and moved to Orlando, an area where a working musician can still make a living. I stopped at the Decadent Dessert Bar on Highway 30A, where Tessa was to meet me. I had performed here many times in the past.
The manager remembered me and asked if I could play for her lunch crowd.  I said, "Sure," and I sat down with a cup of coffee and began to softly plunk on my guitar, searching for the right melody to fit my mood. I finally settle on a song about a man who compared his girl to an Everglades orchid. I sat at a table where I could see into the parking lot, and I saw her step out of her Corvette. Tall, slim and graceful, I felt something in my gut, and choked a bit on the words of the song I was singing.  She was dressed in flip-flops, denim shorts, and a flowery blouse. I had loved Tessa, and at this moment I realized I still loved her. I felt like I was a moth attracted to a candle (her), in danger of getting too close to what could destroy me. As she entered the cafe, I ended the song a verse early, set my Taylor guitar on its stand, and stood up. Tessa saw me and smiled, then hugged me.  We both sat down at my table.
"Sean, you came back."
I thought this was stating the obvious. When we broke up, in anger I said I'd never come back to Collier County. Yet, here I was.  "Yes, I'm back. Thank you for coming to meet me."  I ordered our coffees—a frozen mocha frappé for her,           a double espresso for myself.
"How is your work in Orlando?"
"It's good. Gigs nearly every night. Pay is good. Better than here."
"Why did you come back, Sean?"
"I wanted to see you. That's all."
"Why?"
I didn't answer right away. I suddenly felt that nothing I could say would come out right. She looked at me and raised one eyebrow, indicating she expected an answer.  "Tessa, I'm not really sure what happened between us. After I left, I realized how much I missed you, needed you. I was hoping we could try again."
Then she said something that any man who wants the love of his life back doesn't want to hear.
"I'm seeing someone else now, Sean. He's a good man and I care for him greatly. He's an architect. And yes, we are living together."
"So what happened between us, Tessa?"
"You blew up what we had. You were never around me. You stayed out late with your music gigs, slept late, you drank too much, and when I did go with you for your music, it was horrible. Do you know what it feels like to drive an hour or more to where you're playing, watch you set up your sound system, sit alone and listen to you for three hours, then watch you pack your stuff, and then have to face a long drive home. Not exactly what you'd call a fun girl's night out."
She had a point.
She continued. "Besides, I don't think it would work if we did get back together. I could give up my present boyfriend, but you're not going to give up your music. I do believe you love me, and I still care for you deeply, but the road between us has been torn up. We've hurt each other too badly to travel down that messy path again. You would just blow it all up again. And now, I need to go, Sean."
I asked a server to take our picture with my cell phone. We stood with our arms around each other. It was a feeling I remembered.  I figured the photo would give me something to ponder—or cry over.
I watched her leave and drive away, just as I heard the road crew set off another stick of dynamite.