This year, over 71 people have disappeared while traveling on the highway from Nuevo Laredo to Monterey. Highway 101 from Matamoros has also been described as a Highway of Death. Mexico is a place of death and kidnappings. Here's a poem I wrote that I'm turning into a song:
The Highway of Death.
From Nuevo Laredo to Monterey,
A three-hour journey by car,
Only 135 miles they say,
It's really not very far.
People have vanished here,
They call them the disappeared,
Stopped and taken by gunpoint,
In the haunted Mexican frontier.
Cartels once fought each other,
Now they target civilians,
And torture, murder and rob,
Men, women, and children.
Burned and bullet-ridden cars,
Grim memento mori,
Of moments when death appeared,
But we'll never know their story.
Sometimes they are kidnapped,
And to safe houses they are taken,
Or murdered and buried in mass graves,
Helpless and by God forsaken.
Were they stopped at a roadblock?
Or dragged off the bus?
By men posing as police,
Could this happen to us?
The men who serve cartels,
Have lost all moral bearings,
Psychotic sociopaths to whom
The lives of others mean nothing.
Police and politicians,
Issue travel warnings,
But offer no solutions,
And end up doing nothing.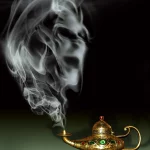 Image from The Evil Wiki Fandom
The tragedies. along the Highway of Death are certainly Cartel activity. Charles Bowden, thought by some to be the most disturbing American writer, in his books described and documented the lawless cruelty of the cartels in the Frontier just across our border. President Biden's policies and reversal of Trump's policies have opened the border to these atrocities spilling across–and they are.  I have worked in the Rio Grande Valley for years and have interviewed many who are horrified at the problems the invasion of illegals is causing. Rancher families in South Texas are outraged when they see the destructive hordes coming across their land. Be sure that the cartels are among them. The cartels now have armed members at the border actually firing at our National Guard soldiers.  It won't be long till our soldiers have to return fire to protect themselves and our citizens. Biden is bringing the cartels to us. The evil, mad, genie will soon be out of the open-border, immigration bottle Biden rubbed, and America will find he will not return and the consequences cannot be undone.
Rickey Pittman, Oct. 2021