While attending the Texas Haunter's Convention in Mesquite, Texas (July 16-18,) I was granted an interview with Jerry DeCastro, a featured author of the convention. DeCastro, originally from Joplin, Missouri, now resides in Tulsa, and in our conversation I found him to be quite knowledgeable on the secrets of writing horror and the horror industry and encouraging for me to continue with my own horror writing.
Though he has an impressive reader following, he feels there our age may be experiencing a decline in horror reading, and that the trend is now toward listening to horror books on CD. He introduced me to two of his books, Ghoul Squad and Skinned. These are fascinating novels, full of mystery, twists, and of course graphic violence (as the titles suggest)–a recipe sure to attract horror fans. You can find videos and synopses of his novels on this Facebook page, HERE.  Below are the covers of his novels.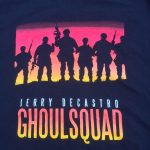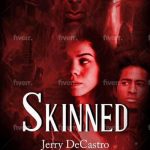 I encourage you to investigate this author and explore his books. You will not be disappointed.
Rickey Pittman
Bard of the South
bardofthe south.com