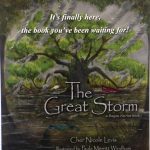 The Great Storm: A Bayou Fairies Book by Cher Nicole Levis and illustrated by Paula Merritt Windham was released with perfect timing at the peak of hurricane season. This is Levis' second children's picture book, a sequel to her first book, The Bayou Fairies. Bayou Fairies is a children's book that teaches children about the plants, trees, flowers and animals of South Louisiana and how one can make friends by acts of kindness. The Great Storm also follows these same themes. You can read my review of Bayou Fairies HERE.
Windham's artwork is captivating. Her short bio says that she is an avid animal and nature lover, and the illustrations make that point. The paintings are true to Louisiana, with a soft tone that fits the book's story well.
Readers are invited to sit in the Story Ring with the fairies and learned how the swamp and bayou animals made it through the Great Storm with the magical bond of friendship. Like Bayou Fairies, the book is away to introduce children (and some adults!) to the beauty of the flora and fauna of the Louisiana Bayou. Along with the narrative, there are also educational facts about Bayou animals and plants listed at the bottom of several pages—as a kind of "Did you know?" exercise. These are facts that will stick in young readers' minds easily after some repetition.
The charming and playful fairies are endearing and memorable. Here you will meet King Oak and Queen Nolia, who narrate the story and introduce each of the Bayou Fairies who are each given a distinctly Louisiana name, such as Andouille the alligator.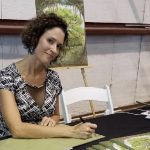 One can tell that Author Levis loves the bayous she was raised on and one can conclude that her degree in creative writing was well deserved. The book was published by All-Gator Bookbites Publishing House in Lake Charles, Louisiana. This a book that will warm the heart of any reader. One can order the book HERE: