Soda Fountain Blues by Lonnie Whitaker is one of the best young adult novels I've ever read. I found this coming-of-age novel to be a page-turner.  Once I started reading, I did not want to stop. That's always a good sign.
Imagine if you can, that you are a college-age teen in 1965, living in a world without Covid, in a nation troubled by the Viet Nam War, an innocent age colored by radio songs that those of us who lived then will never forget.  Whitaker flawlessly transports the reader to that age with accurate and wonderful dialogue, sensory details, and a variety of interesting characters.  Whitaker did his research well. There are numerous memorable phrases in the novel, from the prologue to the epilogue. The chapters are of perfect length. The storyline has sufficient and surprising conflict and suspense that move the story and the characters along.
The novel is centered around two characters: Wesley (a Baptist soda jerk) and Lizzie (a Mormon cowgirl), who both work in Yellowstone Park. The couple finds friendship and love, though the romance had a rather rocky beginning. This is a story of young first love.  Family relationships and struggles are also woven into the storyline. The novel portrays many situations and emotions that readers have experienced and remember. It reminds us that some life events and some people who touched our hearts will never be forgotten.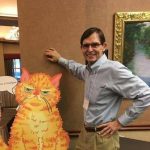 I highly recommend you obtain and read this novel. Read more about this award-winning author at lonniewhitaker.com  I am sure you will be interested in his other writings as well.
Whitaker, Lonnie. Soda Fountain Blues. Scribner Oak Press, 2021.