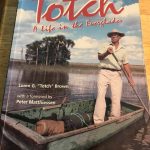 I love Florida and especially Florida history. I just finished a read of a wonderful memoir, Totch: A Life in the Everglades with a foreword by Peter Matthiessen.  Loren G. "Totch" Brown is now a literary and personal hero of mine. His wilderness adventures in the Ten Thousand Islands are the sort of tales that would certainly inspire any youngster who dreams of hunting, fishing, camping, and exploring nature. Totch is a natural storyteller who makes his life in the Glades as a child and adult exciting through his text, maps, and photos. It is a book I wish I had read when I was an Eagle Scout, desiring to participate in Ross Allen's Weekend Survival Course where you were could only take a mosquito bar, canteen, knife, and axe.  You can read about that survival course HERE.
I learned a great deal from reading Totch's memoir and also found it very entertaining. Here's a YouTube video where you can learn more about this interesting character.
Here's a glossary of terms and words I learned or thought interesting:
buttonwood – a tree often used for firewood.
machineel – a poison tree
Chokoloskee – means "old home" in Seminole language.
Bird wardens – hired by the Audubon Society at $35 a month to stop plume hunters.
Shotgun shells – made of paper in older days instead of plastic.
curlew – white ibis, also called Chokoloskee chicken.
sweet bay – leaves from this tree used to make tea.
swamp angels – mosquitos
firehunting – a way of hunting raccoons.
types of fishing nets: cast net, drift net, sink net
thunder mug: a chamber pot
trees: tamarind, mastic,
types of bananas: ladyfingers, apples, dwarfs, and horse bananas
swamp cabbage: hearts of palms,
Gators catch birds to eat by knocking it off an overhanging limb with their tail. They make 3 different sounds: grunt, blowing sound, and bellow.
pit pan – basically a rather crude and quickly built small utility boat that could be hauled overland from one body of water to another when needed by one man.

I hope you enjoyed this blog entry on Totch Brown!