The Isleños of Louisiana: On the Water's Edge by Samantha Perez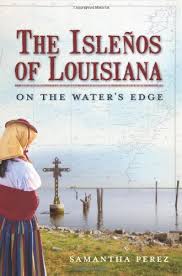 I first learned of the Isleños of Louisiana happened when I did research for my Texas History Songs & Stories presentation I do for public and private schools. Around 1731,  I learned of the Canary Islanders who were sent to Texas. Over 50 settled in San Antonio. Juan Seguin was one of their descendants. The Handbook of Texas says, "A number of the old families of San Antonio trace their descent from the Canary Island colonists. In 1971 a Texas Historical Marker honoring the Canary Islanders and their role in the development of San Antonio was erected on the Main Plaza of San Antonio."
As I do a "Songs & Stories" of Louisiana presentation in schools, libraries, and festivals, etc., I felt the need to some research on the Isleños of Louisiana. I was delighted to discover Perez' book about them.  Printed by the History Press, a division of Arcadia, who also owns my previous publishers of Pelican and River Road Press, it is a compact, informative resource for anyone wishing to know more about the mysterious and little known people who came to Louisiana from the Canary Islands and settle in St. Bernard Parish in the 1700s.
The seven chapters of the book take the reader from the journey of the Isleños  from the Canary Islands to the marshes of Southeastern Louisiana where their culture survived and blossomed for centuries.  Perez develops a narrative as to how they overcame the challenges of war, hurricanes, and government incompetence that they faced.  Perez shares the unique heritage, traditions, documentaries, museums, their unique Spanish dialect, religion, history, strength of their community, and culture of these Spanish islanders who made their living from trapping and the sea.
Perez reveals  the resources  one can use to discover the unique foods, cultural dress, customs, festivals, and their love for and connection to the environment. One fascinating discovery is of the décimas, the a cappella folk songs of the Isleños. Isleños fought in the Revolutionary War, the War of 1812, WWI and WWII.
If you are interest in Louisiana History, you will love this book.  You can order it HERE: