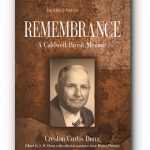 Remembrance: A Caldwell Parish Memoir was created by Billy Dunn, son of Creston Curtis Dunn, and one that I assisted with editing. If you are interested at all in Louisiana history, this is a book you should add to your library. It is available in print or ebook form.
Here is the Booklocker link to order the book.
https://booklocker.com/books/11983.html
About the Book
When most people think of Louisiana, they think of Cajuns, alligators, and Mardi-Gras New Orleans. Few think of Northeast Louisiana and the hard, tough, and determined Scots-Irish and French families who settled its piney woods, worked in the sawmills, worked on the rivers, built the roads and railroads, hunted its plentiful game and farmed the soil. Caldwell Parish has a unique beauty and history that this memoir will bring to life.

Remembrance is a memoir of Creston Curtis Dunn and his life in Caldwell Parish. Memories of his service and his contributions to the town of Columbia and Caldwell Parish will never be forgotten. In Remembrance, many surprising facts and fascinating stories await the reader.
About the Author

J.W. Dunn is a lifetime resident of Caldwell Parish. He has worked with paper mills for 25 years, and has worked as educator and tutor for Caldwell Parish ISD. He studied creative writing at the University of Maine. He lived in Lithuania for five years with his wife Palmyra and they now currently live in New Jersey.