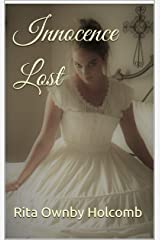 The first novel I read in 2021 was Innocence Lost: The Legend of Henrietta Clay by Rita Ownby Holcomb. (Fountain Springs Publishing).  The novel is well constructed with 44 dated chapters starting with August of 1860 and ending Christmas Eve, 1864. Innocence Lost is the first in a series that spans from 1860-1920.
This construct gives the story the feel of a memoir, telling the story of fifteen-year-old Henrietta Clay from Hogeye, Arkansas. The young, naive girl marries a man who promises her a beautiful life, but instead uses her and drags her into the seedy world of war-torn St. Louis. Fate rescues her from her difficult circumstances and leaves her with the gift of a child and an inherited brothel.  Henrietta Clay is actually the great-great-grandmother of the author.
The author skilly constructs her plot with the kind of chapters I like to read: short enough to read in one sitting with very descriptive writing that moves from one conflict to another. The storyline has plenty of conflicts and twists and at times has the feel of a romance novel, but as mentioned before, it feels more like a memoir, and one that is full of historical details indicating the extensive research the author must have done,  Even though I've long been a student of the Civil War, some of these facts are surprising, such as introducing Lissie Keckley, a free slave who became the personal dressmaker of Mary Todd Lincoln. As the War Between the States is always in the background, the protagonist is an observer of the St. Louis civilians as well as the Federal and Confederate officers and soldiers whose destinies and actions affected the city.  In a way, one could say that this is very much a story of St. Louis.
Rita Holcomb is a member of the Authors Roundtable Society and a member of the Texas Authors Association. You can read more about her and her fine books HERE: