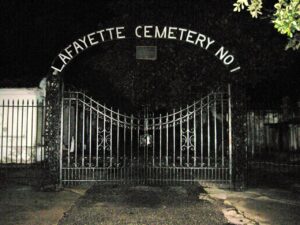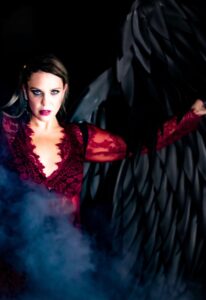 Annika, Dark Angel of Lafayette Cemetery No. One
Annika, Dark Angel,
In Lafayette No. One,
Cemetery guardian,
She watches the tombs alone.
She knows their names by heart,
And their histories,
The year of each burial,
And forgotten mysteries.
There's a cherub by a small grave,
Where a little child lies,
And an angel sits with folded wings,
Moonbeams touch her eyes,
She often sits by the Weeping Woman
Whose hands hold an ash-filled urn,
She is veiled and bare of feet,
At times her head can turn.
Some have heard the statue whisper,
Seen tears upon her face,
Shed for the living and lost,
Who are buried in this place.
One night she fell in love
With a lonely writer,
Who walked cemetery paths alone,
His heart was sad and bitter.
Taking on her human form,
She walked along beside him,
And softly took his hand and
Led him past graves sad and grim.
"Why do you come here?"
She asked quietly,
He said, "I need the silence,
And to search sad histories."
As they walked along together,
They opened up their hearts,
Feeling the hand of fate
And the fire of new love's sparks.
She said, "I'm glad you came here,
And that you weren't afraid,
But there's something you should know
Before mistakes are made."
Dressed in a black and red tunic,
That contrasted with porcelain skin,
She opened dark angel wings,
"This is how I will begin.
"I am this place's guardian
And I can never leave,
But I'll love you with an angel's love,
That I hope you'll believe."
In a pool of moonlight,
|She looked into his blue eyes,
And whispered, "I know I love you,
"And an angel never lies."
He wrapped his arms around her,
And kissed her tenderly,
"I love you, my Dark Angel,
I'll stay with you and not leave.
She kneeled at the Weeping Woman,
And said, "No, this can never be,
|For there's only one dark way,
That you can stay with me.
"Your life is short,
Eternity here is long,
|But come see me every night,
Our love can still be strong."
They met together every night,
Making love with many a kiss,
He read her poems and songs,
She knew she would one day miss.
The last time that he saw Annika,
She waited in the moonlight,
On a tomb she spread her wings,
Then vanished forever in the night.