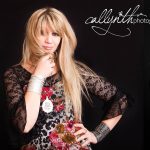 Lacie Carpenter is one of the most talented and hard-working musicians I've ever known. She has a natural charisma and winning personality that is endearing. She consented to an interview with the Bard of the South. Here it is!
You are known as a fiddle player, but you also play guitar and mandolin. Tell me about how these instruments came into your life. Any other instruments that you play? 
I'm a classically trained violinist that has also been trained in the art of fiddling.  I guess you could call me a "Fiddlest"!  I play guitar, mandolin, ukulele, piano, and I sing.  (Those are my favorites, anyway). Since I went to college for music, I learned to play every instrument but harp and banjo…but I'm not the best percussionist or bassoonist!
Music, in general, came to me. It found me at birth and I just knew I was going to be in the music industry…some form another.  I started off playing the piano when my mom bought me the Baby's Baby Grand Piano. I could play songs I heard without hesitation, but the piano and I broke up soon after she got me a toy violin. It was done… I was going to play the violin! I didn't start playing any other instruments till college—except for singing. I loved to sing but I hadn't had any training until recently.  Since I had to learn every instrument anyway, I picked up the mandolin, then the guitar, so on and so forth.  I wanted to play mandolin because of Rhonda Vincent. I thought it was so cool that a woman on the Grand Ole Opry could lead a band and she played mandolin and fiddle, along with knowing how to play guitar.
I first met you at the Gladewater, Texas Opry and was privileged to play with you and the stage band. How long did you work with the Opry there? Your mother was the emcee and she did a fine job at that. Was your mom a great encouragement to your career?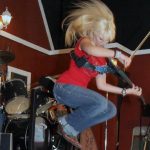 Yes! I played in the house band Texas Smoke for almost 10 years.  My mom is the best encourager! She also is brutally honest and believes in me an infinite amount.  She knows I'm a free spirit and wouldn't mind traveling in a Gypsy music van peddling songs, but my mom knows I have way too many instruments and clothes to do that! She keeps me grounded while also pushing me to always be my best.
4. I know you've had several tours. Can you tell me about those?
I've toured Alaska, NYC, Virginia, MN, Wisconsin, Michigan, Ireland (twice), England, Austria, Germany, and Nashville before I moved to Music City three years ago!  Each tour was different.  Some were Celtic, some were classical, and others were just me doing my own thing.  I've played for the Prime Minister and Archbishop of Austria. Pub and cathedral tours in Ireland and private parties for families. Radio tours across Virginia and played at the world-famous WSVS! The old Flatt and Scruggs radio station.  I've performed at Fine Arts Centers, canoeing conventions, and Juilliard.
I believe you have done studio work as a fiddle player. What artists or songs have you worked with?
Yes. I've played for Belmont students working on their senior projects, Gary Gentry (The Ride), Lauren Grant, Bob Mauldin, and Wayne Moss. As far as working with other artists songwriting, symphonies etc… Becky Buller, Wayne Moss, Linda Eder, ETBU Symphonic Band, Marshall Symphony, Orchestra of the Pines, Piney Woods Camerata, and been a soloist for many of these groups.
What would you advise anyone wanting to learn to play the fiddle?
Give yourself 6 months before you quit!  Have patience and grace with yourself.  Don't think you'll automatically play "Devil Went Down To GA"!  Never think you should be growing at the same rate as others—don't compare.  The fiddle isn't easy.  If it was… everyone would play it. Enjoy the struggle.  There will be frustration—stop, breathe, start again. Perfection is an ever-moving target—you weave in and out of glorious moments.  Hold onto those moments when you find yourself plateaued.  Like love—music never hurts you.
Tell me about your fiddles, models, maker, etc… I've seen you play two. One is electric?
I have several fiddles! More like 12. I play Stuart the most… Yes, I name my instruments. Stuart has a long story I won't go into, but he is very old and is my Soul Fiddle!  Blossom is my American made fiddle that I bought at the Texas State Fiddle Championships.  I fell in love with her right before I did the contest and I told the seller I would buy that violin if I place in championships.  I placed and I put a down payment on Blossom.  I also play a 7-string fretted Mark Wood Viper. Oh how I love Vinny the Viper… Most commonly known as the Green Machine or The Beast.  Then there is my newest electric fiddle, the NS Violin. I have an endorsement deal through THINK_NS! I'm very proud to be endorsed by an amazing company with incredible instruments.  My NS is so new, I haven't named her yet…
Do you have a favorite fiddle song/tune?
"Gold Rush" is my favorite fiddle tune!  My favorite song… that's a little harder—but I have to say it's "Shiver Me Timbers" by Tom Waits.
You play a wide variety of music genres. Any favorite?
I love classic country, Americana, pop, Bluegrass… Really all of it—Every genre has at least a few songs that are amazing within them… so I can honestly say, I love all genres. Listening and performing.
You play by ear and by reading music?
Yes. I read music and play by ear.
Where (or with whom) did you learn your musical skills?
I've had many, many mentors. Dr. Isidor Saslav was one my greatest teachers. He truly believed in me and my talents.  He was tough but always had my best interest at heart.  He pushed me to be my best and have every amount of his knowledge out to me and his other students.  Dr. Jane Saber was another incredible mentor.  She's back in Canada now but she showed me the art of Celtic fiddling and I couldn't have my hour of Celtic music without first having a successful classical music lesson.  She pushed me musically and personally, and I greatly grew because of her during my teenage years!  She gave me my first real performance job at a wedding, and we are still in contact today. Dr Jennifer Dalmas at SFASU.  We didn't always see eye to eye on things, but she pushed me out of my comfort zone.  She got me past bad technique I was taught years earlier from other instructors in my younger years.  My college years with her proved that my passion for music went much deeper than classical music and that's when I really started to experiment with other genres—even though I had been fiddling since I was in high school.  She showed me that I could be one of the best classical violinists in the world if I set my sights on that.  My goals were incredibly different.
I've also learned from Mark O'Connor, Valerie Ryan's, Randy Elmore, Becky Buller, Linda Eder, Paul Anastasio, Bruce Molsky, Judy Hyman, Jonna Fitzgerald, and Buddy Spicher.
Your websites, podcasts, Facebook fan page? etc.
www.laciecarpentermusic.com  Facebook: Lacie Carpenter Music  Instagram: @fiddlinlacie
Who are some fiddle (violin) players you admire?
Eileen Ivers, Judy Hyman, Alison Krauss, Kenny Baker, Itzack Perlman, Jascha Heifetz,
Do you offer lessons online? How does that work?
Yes!  Just go to my website and click on the lessons tab to fill out a contact form or email me at Lacie.carpenter28@gmail.com
How has the Covid shutdown affected you? What future plans and performances do you have for the future?
COVID shutdown all performances and speaking engagements throughout 2021. So bummed would put it lightly!  Right now, I'm starting a few small music programs at smaller schools in the Nashville area and working on new music to release! At least there is GarageBand!!! I'm also a psychology professor at a local college.  Very grateful for backup plans right now!! I don't know what the future holds but I'm taking it day by day and trying to create music each moment I can…even if it's just practicing to future my craft.
Are you a song/poem writer? Do you have a favorite songwriter? What artists influenced you early in life?
Yes! Songwriting was my first passion. Ever since I saw Burt Bacharach when I was 9 years old. I screamed out from the audience "I want to be you when I grow up!" I've written poetry and songs ever since that day. Thankfully I'm much better than when I was 9!
Some of my favorite artists: Burt Bacharach, Darrell Scott, Guy Clark, Becky Buller, Chuck Cannon, Carole King, Carly Simon, Tom Waits, Travis Meadows, Elton John. The people who influenced my younger years and beyond: Bette Midler, Linda Eder, Barbra Streisand, Judy Garland, George Jones, Alison Krauss, Crystal Gayle, Tanya Tucker, Gwen Stephani, Loretta Lynn, AC/DC, Aerosmith, LED Zeppelin.
What is your typical day like?
I start my day with coffee and dance… dance only if no one had been around anyone with COVID right now. I practice music, teach lessons, go to a school to teach my small music start-up music programs, write, record, study, edit… I fit sleeping and eating in there too! I'm also a published author! So I'm constantly working on a new book or a ghostwriting project. I keep busy…now if all that busy-ness will turn into money!