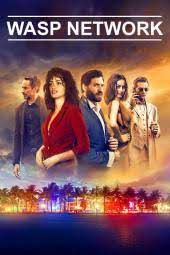 I lived in South Florida (Naples) for a couple of years and there I encountered and learned much about Cuba and the thousands who had managed to flee Cuba. Last night, I watched a Netflix movie,  WASP NETWORK, and this brilliant film revived many memories and feelings I had experienced as I worked among and with the Cuban community.  The 2019 film is based on a book, The Lost Soldiers of the Cold War: The Story of the Cuban Five, (a book I just ordered). Oliver Assayas wrote and directed the movie. Much of the dialogue is in subtitled Spanish. The actors' performance (including Penelope Cruz) is amazing.  The plot is based on the lives and experiences of Cuban spies operating in South Florida in the 1990s.  There are no happy endings for the Cuban Five.
The film has several (sometimes conflicting) threads. The movie reminded me of the fierce hatred Cuban emigres held and still have toward communism and Castro, of the harsh reality of lives for those who live in Cuba and how their desperation to escape the miseries of communism is so great that they will risk everything and launch out on rafts to cross the 90 miles to America. The film reveals how the Cuban community plans and organizes rescues missions for those making the crossing.
More observations of the Cubans and my experiences among them in future posts. Here's a video trailer for the movie!
Rickey Pittman